Tragedy and bravery collided on a fateful day in the dense jungle, as a heart-rending cry pierced through the stillness. It was the cry of a courageous puppy named Max, who was determined to save his beloved mother, Bella, from the deadly clutches of a giant python.
Max and Bella were inseparable. They lived with their pack of stray dogs in a small clearing within the vast forest. Despite the harsh conditions, they found comfort and love in each other's company. Bella, being an experienced and protective mother, taught Max everything he needed to survive in the wild.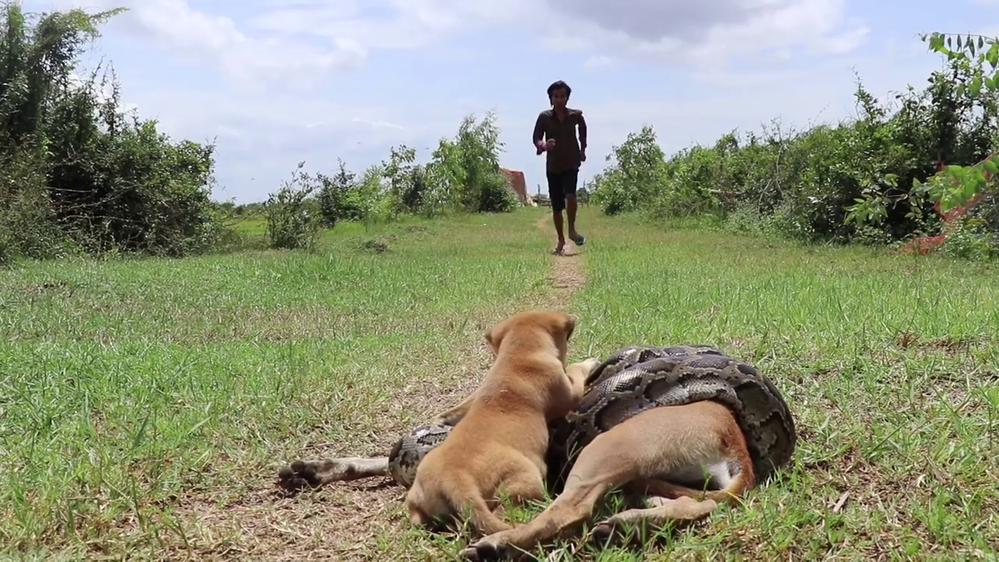 One sunny morning, while the pack was busy hunting for food, a massive python slithered into their territory. The serpent's eyes glinted with hunger, and its enormous body coiled around a nearby tree. Panic spread among the dogs as they saw the python lurking nearby, waiting for an opportunity to strike.
Bella bravely stepped forward to confront the danger, barking fiercely to warn her pack and shield them from harm. Max, however, couldn't bear to see his mother in danger. He felt a surge of determination to protect her, even if it meant facing the python head-on.
With unwavering courage, Max devised a plan. He would distract the python, allowing his pack to escape to safety. He approached the python cautiously, emitting a defiant growl. The python's attention shifted from Bella to the tiny, defiant puppy before it.